Katharina Martens Derksen was born on December 30, 1886 to Jacob and Sara (Krõker) Martens in Sagradovka, Kherson Province of Imperial Russia, in the present day Ukraine. She was the fifth child of a family that grew to eight children, with one brother Peter dying as an infant. Her brothers and sisters were Johann, Wilhelm, Maria, Jacob, Peter, Franz, Sarah, and Elizabeth.

Jacob Martens, whose mother was Katharina Dekker, daughter of the Hutterite couple, Benjamin and Susanne Dekker, grew up in the Hutterite Colony of Huttertal with Katharina Dekker's parents. In 1872 during the time of the mass exodus of Hutterites to North America, Jacob's father Whilhelm Martens moved his family to Sagradovka in the province of Kherson, a new Mennonite settlement purchased by the mother colony of Molotschna.

In her youth, Katharina, or Tienne as she was called, enjoyed attending school. The skills she acquired permitted her to keep mentally active well into her old age, with reading and writing letters. At the age of sixteen, Tienne accepted Jesus as her savior after reading Psalm 23, continuing as a Christian all her life.

Tienne sang as the soprano soloist in the Church Choir of the Mennonite Brethren Church of Sagradovka. During this time, she became acquainted with Julius Derksen who sang in the church choir while he was stationed in the forestry service at the Sagradover Settlement Wlademierower Forest Service.


In the fall of 1909, Julius asked Tienne's father for permission to see her, and Tienne and Julius agreed to get married the next spring.

In January 1910, Julius went home to village No. 3 of Talma, Terek near the Caspian Sea, to visit his family just before his father died on January 23, 1910.

When he returned to Sagradovka, Tienne and Julius were married on April 30, 1910. They joined the MB Church in the village of Tiege No. 8, Sagradovka.

Soon after, Mr. Jacob Wiebe, the choir director, asked Julius to take his place. Upon Mr. Wiebe's retirement, Julius became the choir director of the MB church in Tiege No. 8, Sagradovka.

Their first son, Jacob, was born on January 26, 1910, and their daughter Sara was born on April 10, 1912.

In the spring of 1914, Tienne, Julius and their two children moved to the village of Lavarow in the Caucasus region to pioneer with other Mennonite families. From their farm, they could see Mr. Elbrus, towering 18,500 feet, along with Mts. Camel, Babka and Jelesenaja. The hot and cold water springs of Mt. Jelesenaja were a famous tourist attraction, and its environs were the most beautiful area of Russia.


Soon after arriving in the area, they built a house with walls of mud bricks they dried in the sun, and with a roof of brick shingles that they bought. They obtained their drinking water in a cistern fed by rainfall collected in the eaves troughs of the house. In early summer, they planted fruit trees and seeded their crops. Their first harvest from the fertile soil of their farm in 1914 was very good.

Unfortunately, WWI started. Before Julius could begin the harvest, he was mobilized leaving Jacob, Sara, and Tienne, who was expecting their third child, behind.

Tienne's father, Jacob Martens, came to help with the harvest. After renting their house and farm, they packed their most needed articles, and took the train to Sagradovka, Altonau where Tienne and her children stayed with Tienne's parents.

The next spring on March 28th, 1915, Tienne gave birth to their second daughter, named Katharina, but usually known by her diminutive Tena.

While in the forest service, Julius could not visit his family for fourteen months. Finally after Tena was six months old, he was able to obtain a furlough and saw his daughter for the first time.
When he arrived at Katharina's parents home in Sagradovka, the relatives placed Tena and another girl about her age on a blanket, asking Julius to guess which was his daughter. Apparently Julius was unable to decide which was his and which was the stranger.

Sometime after the war, Tienne, Julius, and their three children returned to their farm in the village of Lavarow in the Caucasus.

Tienne and Julius celebrated the birth of their second son, Julius Jr., on March 23, 1921.
The period after war was very chaotic. Many people suffered at the hand of bandit gangs, and rogue military squads.

Katharina (Tienne) Derksen's brother and wife, Whilhelm Martens and Anna Ott Martens, were murdered, along with their children, except for their two daughters wearing checked dresses in the picture below.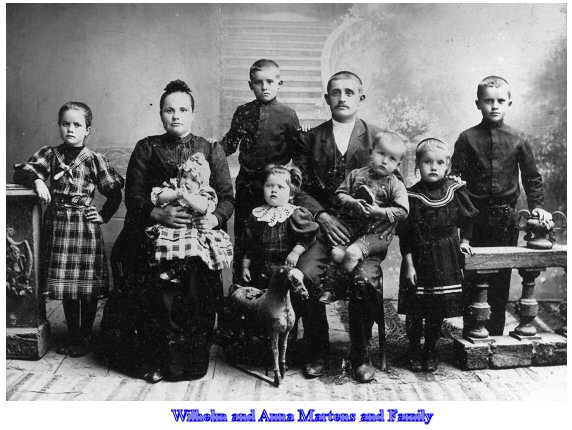 Since four of Julius' brothers had already emigrated to Canada, the political uncertainty in Russia motivated Julius and Katharina to leave. After disposing of their property, they traveled to Moscow to obtain exit permits.

They left Russia traveling on the train from Moscow, crossed the border into Latvia through the Red Gate, and sailed to England from Rigal after they were processed by Canadian Immigration Officials.

Julius was 40, Katharina 37, Jacob 13, Sarah 12, Katharine 9, and Julius 3. They proceeded to Canada under the auspices of the Mennonite Board, Rosethorn, Saskatchewan with the intention of farming in Canada, traveling with Russian Passports (43298 and 43288) issued in Pjatizarsk, Russia. They listed Julius' brother, Martin Dirksen, of Rekeman, Tauriou as next of kin in Russia.


The Derksen (Dirksen) family became landed immigrants in Quebec City, Quebec, Canada on November 25, 1925, having sailed on the Empress of France (passage paid by themselves) from Southampton, England on October 31, 1925.

Immigration records indicate Julius Dirksen had $500 dollars when he landed in Quebec.

After 3 days on the train, they arrived in Winkler, Manitoba. Julius' brothers, Peter, Gerhard, and Johann, greeted the Derksen family when they arrived.

They were taken by car to Gnadentahl, Manitoba by Mrs. Johann Derksen's nephew, Frank Friessen. The picture above was taken when they arrived at Johann Derksen's farm in Gnadentahl.

In the spring of 1926, the Derksen's moved to Blumenhof, Saskatchewan, where they lived with Tienne's uncle, Franz W. Martens. That summer, Tienne's father, Jacob Martens, and Tienne's sister and husband, Sarah and Abraham Koop, arrived from Russia with the Koop children.


Just south of Blumenhoff next to the CPR train tracks, the Derksen's purchased 300 acres of land, with a house and barn already built, seen in the picture right. The property had a well with a wind-mill driven pump. When there was no wind, the pump was operated by hand.

The Derksen's lived on this property for ten years, growing grain crops along with with dairy and beef cattle, and a vegetable garden for home use.

All the children worked on the farm and attended school for awhile. Sara taught Sunday School; Jacob attended Herbert Bible School during the year 1932-33.

The whole family attended the MB church each Sunday in Blumenort some miles south of Blumenhof, where Julius was the choir director. In winter, they traveled by way of sled and a pair of horses, while in summer, by horse and buggy, as seen in the pictures below.

Julius Derksen is at the left in the top row.



In 1935 Tienne and Julius celebrated their twenty-fifth wedding anniversary on their farm in Blumenhof.

Although the 1930's were unfavourable times, and farming on the prairies was fraught with difficulties, the Derksen family was grateful to God that they had survived everything they had experienced, first in Russia and then in Canada.


Crops on the Canadian prairies were frequently assailed by frost, wheat rust, hail storms, and drought.
In 1936, better times beckoned from Yarrow, British Columbia, where Julius' brothers Johann, Henry, Gerhard, and Peter Derksen were already living.

The Derksen's auctioned their farm implements and unnecessary belongings, sold their 300 acre farm, stored their furniture, cattle, and dog into a baggage and a cattle car, and boarded a CPR train bound for Swift Current and British Columbia.







The Derksen's purchased a small farm along the Vedder River on Ford Road, three miles east of the town of Yarrow. The family raised chickens, milked dairy cows, and grew potatoes, corn, and berries on their Vedder River farm. The family income was supplemented with work in the hop yards and tobacco fields on Sumas Prairie.




Tienne's eldest daughter, Sara, married George Siemens on March 28, 1937 in the Yarrow, MB Church. After farming in Saskatchewan for a few years, George and Sally bought the farm east of Browne Road adjacent to the Vedder River, and west of the Derksen farm on Ford Road.

Jake died on December 30, 1938, and was buried in the Yarrow Cemetery at the end of Alder Road (Hare Road).




On March 16, 1939 Katharine (Katie) and George Wiens married in the Yarrow MB Church, and purchased a nearby farm on Browne Road on the north-east corner of its junction with Vedder Mountain Road.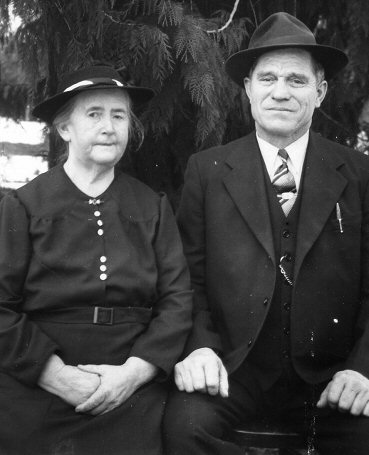 Katharina and Julius Derksen at Their Ford Road River Farm
After serving in the Canadian Armed Forces during WWII, Julius Jr. married Elise Boyle on March 2, 1945. They settled in Arnold, southwest of Yarrow and near the USA border, and across the road from the Arnold MB Church.




In 1944, Tienne and Julius bought a three and one half acre property on Central Road just west of the Yarrow MB Church. They built a house and a chicken barn, planted raspberries, strawberries, grapes, and a few fruit trees. Tienne had a flower garden next to the church yard, and a large vegetable garden next to the grape arbour.

Since Julius preferred horses to tractors, he would hire Mr. Penner and his farm horse to disc the berries, or to plow and cultivate a patch of ground.

This was a wonderful place for Tienne and Julius in their "retirement years." They could walk a few yards across the church yard to conveniently attend any services they desired, and they were centrally located in Yarrow for access to store shoping.

At Christmas and Easter, Tienne and Julius welcomed their children and grandchildren home for dinners and stories by Julius Sr. about their family's experiences in Russia and on the Canadian Prairies.


In later years, these gatherings were held at the homes of George and Sally, Katie, and Julius and Elise.
When Katie Wiens and her family moved to Yarrow in 1953, the Wiens children loved having their grandparents nearby. Raymond and Elmer frequently took their books to do homework at their grandparents' kitchen table, while Tienne and Julius sat in their rocking chairs, reading and crocheting. At 8:00 pm sharp, grandfather turned on the radio to listen to the CBC news, while grandmother made a pot of tea. After drinking a glass of lemon tea while discussing current events, Raymond and Elmer would return home with their homework completed.
---
Julius Derksen passed away on March 10, 1961.
Katharina Derksen lived for four years after her husband, Julius, died. Despite her limited eyesight due to cataracts, she managed to live on her own for two and one-half years in her house with the help of family members. After staying for a period of time with her daughter Sara's family on Sumas Prairie, Katharina moved into an extended care facility in Abbotsford.
Katharina Martens Derksen passed away on May 31, 1965.
---
by Elmer Wiens, compiled from Family Albums and Memories
GAMEO Biography

Wiens, Elmer. "Derksen, Julius J. (1884-1961)." Global Anabaptist Mennonite Encyclopedia Online. October 2009. Global Anabaptist Mennonite Encyclopedia Online. Retrieved 07 December 2009
---
Martens Family Album
Katharina (Dekker) and Whilhelm Martens
Katharina's Grandparents
Sara (Kroker) and Jacob Martens
Katharina's Parents


Sarah Martens, Julius Derksen, Abraham Friesen, Franz Martens, Wilhelm Martens, Jacob Martens, Elizabeth Martens
Katharina (Martens) Derksen, Maria (Martens) Friesen, Sarah (Kroker) Martens, Jacob Martens, Anna (Ott) Martens, Katharina (Wiens) Martens


Family of Abraham and Maria (Martens) Friesen


Family of Abraham and Sarah (Martens) Koop


Elizabeth Martens, 1919. Married Jacob Koop and lived in Swift Currcent, Saskatchewan


Derksen Children in a Sunday School Class in England, 1925
Julius and Sara middle 2nd and 3rd rows, Katie 2nd from right 3rd row, Jacob 3rd from left 4th row
Mary Schmidt, Annie Schmidt, and Gertrude Schmidt are the three girls in the 3rd row to
Sara Derksen's right (viewer's left)
Johann Peter Schmidt is sitting in the front row, right side, with three white buttons on his shirt
(For information on the Schmidt children contact Patricia Schmidt at: thegargirl@hotmail.com)