Julius Derksen was born on January 27, 1884 to Jacob and Anna (Janzen) Derksen in the village of Sarabash in the Krim area, Imperial Russia. He was the youngest child of a family of eleven children, with one sister Justina dying as an infant. His brothers and sisters were Anna, Jacob, Peter, Martin, Maria (Strauss), Aron, Justina, Heinrich, Gerhard, and Johann.

Both of his parents were from the village of Schoensee, Moloschna, Russia, where they were married on March 1, 1861 in a ceremony officiated by Johann Goerzen.

The Derksen family opened a blacksmith business, after Heinrich learned this trade in the Molosh area.

In 1900 when Julius was 16 years old, the family moved to the Terek area near the Caspian Sea, starting as pioneers in the Village of Talma No. 3. There were 15 numbered Mennonite villages in this area.


On their arrival in Talma, the Derksen's operated a blacksmith shop at their residence. Julius' brother Henry was the foreman, while Johann and Julius were the labourers, doing their best to keep up with all the work customers brought to them.


The three brothers, Heinrich, Johann, and Julius, were strong young men in good health, who enjoyed working hard and accomplishing as much as possible each day.

The Mennonite pioneers of Talma were all just getting started, and most of them could not pay for the work that needed to be done to construct and fix their farm implements. In order for these pioneers to plant, tend and harvest their crops, the Derksen's waited until the fall after the crops were harvested to accept payment. Still, it was necessary for Julius to visit all the 15 villages of Talma on horseback to collect the debts for the blacksmith work done, a task Julius as the youngest of the family was assigned by Henry. These difficult times continued for two years, until the farmers in the area could establish themselves with sufficient surpluses from their farms' produce to pay by way of cash for blacksmith work.

Meanwhile, the Mennonites of the 15 villages of Talma collectively built a large Mennonite Brethren Church in Village No. 3 where the growing population could worship. While most of the residents were born again believers of the Mennonite faith, many had not been baptized. During the inaugural baptism services in 1902, the entire Derksen family were baptized and accepted into the MB Church, except for brother Johann who had already been baptized in the Krim. At this time, Julius' father was already 70 years old, and his mother was 68 years old.

The Talma MB Church had a famous, large church choir conducted by Wilhelm Penner. Mr. Penner's daughters, Maria and Greta, were noted for their singing. The Derksen's, Maria, Heinrich, Johann, and Julius, also joined the choir. Greta Penner and sister Maria were soloists, who sat on the first bench of the choir. Maria Penner sat on the second bench, Johann, a tenor, sat on the third bench, while Heinrich and Julius sat at the back on the fourth bench. The young people of the choir practiced and sang many spiritual songs.


After a season, brother Heinrich, who always had a good view of Maria in the church choir, and Maria Penner were married.

"She was a picture of beauty, as well as a very kind and religious person."

As was the custom, one day while the three brothers were working in the blacksmith shop, the church pastor, Mr. Wittemberg, entered the shop and spoke quietly with Heinrich. Subsequently, Mr. Wittemberg was commissioned to ask Maria Penner if she would be willing to accept a proposal of marriage from Heinrich. After Maria Penner accepted his proposal, the couple's engagement was announced in the church and three weeks later they were married.

Heinrich and Maria Penner Derksen moved to Village No. 5 of Talma, where Heinrich started his own blacksmith shop. There they lived happily together, and in time a beautiful little daughter, Annie, was born to them, whom Yarrow people know as Annie Derksen Dahl, the wife of John Dahl. Unfortunately soon after giving birth, Maria Derksen contracted a form of sleeping sickness from which she did not recover. Ater her death, Heinrich was left alone with his daughter Annie. Annie, who came to live with her grandparents in Village No. 3, was taken care of by sister Maria. Soon the two of them became almost inseparable.

In 1907, Julius was employed in the forest service of the Russian Government at the Sagradover Settlement Wlademeirower Forestrie Kaserne.


At 10:00pm on July 19, 1908, Julius' mother, Anna (Janzen) Derksen, died. Just before she passed away, she sent Julius a card which read, "See you in Heaven, my dear son Julius."

Julius served in the forest service from 1907 to 1909. The picture below shows the barracks in which the young men of the forest service were housed.
While in the forest service, Julius conducted a male choir and band, that sang and played many Christian spiritual songs. These activities in the evenings and on weekends helped to pass the time away, while the young men were away from their homes and families.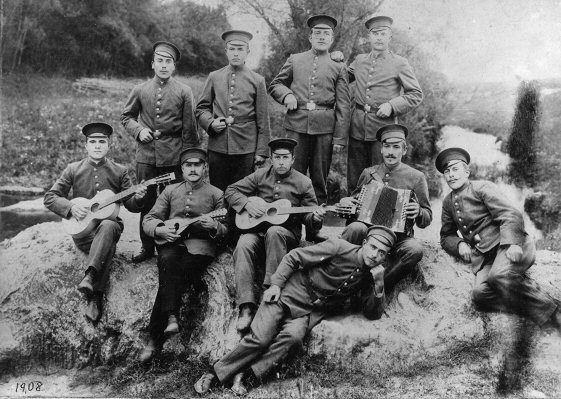 At the age of 25 years during his last year in the forest service, Julius attended the Sagradovka MB Church, and sang in the church choir. This church was located in the Village of Teige No. 8, Sagradovka. While attending the MB Church and singing in its choir, Julius became acquainted with Katharina (Tienne) Martens, the daughter of Jacob and Sara Martens.

According to family legends, during choir events in church, Julius took every opportunity to brush his arm against Tienne's arm in order to attract her attention. Eventually this strategy worked. In the fall of 1909, Julius asked Tienne's father for permission to see her, and Tienne and Julius agreed to get married the next spring.



In January 1910, Julius went home to village No. 3 of Talma, Terek near the Caspian Sea, to visit his family. When he arrived home, he found that his father was gravelly ill. Standing at his father's death bed were Maria, age 38, Heinrich, age 34, and Julius, age 26. Jacob Derksen died on January 23, 1910.

Before he died, he asked his children to sing the song, "Jesus, Lover of My Soul".

"With great emotion we sang that song. As we softly sang the last verse, my father sang along. As we finished the last line, he fell asleep to be with the Lord. With deep emotion, we children knelt down, in the presence of Elder Franz Enns of the Mennonite Conference Church (the uncle of Dr. Enns of Chilliwack, B.C.). We thanked God for this wonderful home-going of our dear father. May God give us all a blessed home-going!"




Derksen Family Portrait in 1910.
"In 1910, I left home, never to come back again. Brother Heinrich took me to the train station, from where I took the train to the Moloshna Village of Blumenort to see my brother Martin, his wife Matilda, and their children.

After a short visit, I went to the Sagradovka Village of Altonau No. 9 to see my dear Tienne and her parents, Jacob and Sara Martens. Here we made the preparations for our upcoming wedding."

Katharina and Julius were married on April 30, 1910. They joined the MB Church in the village of Tiege No. 8, Sagradovka.




"Soon after joining this MB Church, the choir director, Mr. Jacob Wiebe, said to me, 'You are young, but I am old. Would you like to be the choir director in my place?'

I hesitated accepting this task for a while.

But Mr. Wiebe asked the church about it, and with their approval he retired. The MB Church in Tiege No. 8 accepted me as their choir director.

I directed this choir for three and a half years, until my family and I moved away in 1914."


The picture above shows Julius Derksen, back row on the right, with the church choir.

Mrs. Sara Koop (Katharina Derksen's sister) stands in the center of the 2nd row wearing a white lace "haube" on her head. She had recently married Abraham Koop, who is standing directly behind her to her left. It was the custom for all married women to wear a head covering. During their first year of marriage, women wore a white "haube," after which they wore a black one.



Two children were born to Katharina and Julius Derksen while they lived in Sagradovka.

On January 27, 1911, their first son Jacob was born.

On April 10, 1912, daughter Sara was born.

These peaceful, and relatively prosperous years in the Ukraine of Imperial Russia before WWI, were not to last. Groups of Mennonites began to immigrate to North America, fearing that the growing political unrest would affect their religious freedoms, and Mennonite way of life.

In the spring of 1914, Tienne, Julius and their two children moved to the village of Lavarow in the Caucasus region to pioneer with other Mennonite families.

From their farm, they could see Mr. Elbrus, towering 18,500 feet, along with Mts. Camel, Babka and Jelesenaja. The hot and cold water springs of Mt. Jelesenaja were a famous tourist attraction, and its environs were the most beautiful area of Russia.






Soon after arriving in the area of the Caucasus, they built a house with walls of mud bricks they dried in the sun, and with a roof of brick shingles that they bought. They obtained their drinking water in a cistern fed by rainfall collected in the eaves troughs of the house. In early summer, they planted fruit trees and seeded their crops. Their first harvest from the fertile soil of their farm in 1914 was very good.

Unfortunately, WWI started. Before Julius could begin the harvest, he was mobilized leaving Jacob, Sara, and Tienne, who was expecting their third child, behind.

Tienne's father, Jacob Martens, came to help with the harvest. After renting their house and farm, they packed their most needed articles, and took the train to Sagradovka, Altonau where Tienne and her children stayed with Tienne's parents.

The next spring on March 28th, 1915, Tienne gave birth to their second daughter, named Katharina, but usually known by her diminutive Tena.

Katharina Derksen sent her husband, Julius, the above picture while he was stationed in Siberia. Jacob is 4 years old, Sara is 3, and Katherine about 6 months.

After he was mobilized, Julius, along with other men, was transported to the high north of Siberia to take care of 2400 acres of forest lands.



"The evergreen trees were very high and straight, and the undergrowth and bush could be very thick. Because I lived alone in a cabin in the forest, I had to prepare my own meals, and I often felt very lonely, missing my wife and children back home.

Sometimes the Russian people living in the area invited me for supper. I would be very grateful for their kindness and companionship. But sometimes the next day, I would notice that perhaps a few trees would be missing. I was never sure, because there were so many trees, but I suspected as much on occasion.

The winter weather was bitterly cold, with much snow. On Christmas Eve, December 24, 1915, I came home very tired from tramping all day through the deep snow in the woods, looking for wood thieves.

It did not feel like Christmas at all. When I opened the door to my cabin, I saw a big loaf of white, Russian bread on the table, and that the room was warm from a fire that was burning in the stove.

Then to my surprise, who comes out of hiding from behind the door? It is my dear brother Johann, who was exempted from the forest service.

He had come all the way from Sagradovka to visit me. God gave me an answer to my loneliness. It was a wonderful Christmas gift."

The picture above right shows the two Derksen brothers, along with another Mennonite man, a Mr. Boschmann, who was probably also serving in the forest service in the vicinity.

While in the forest service of the Russian Military, Julius could not visit his family for fourteen months. Finally after Tena was six months old, he was able to obtain a furlough and saw his daughter for the first time.



When he arrived at Katharina's parents home in Sagradovka, the relatives placed Tena and another girl about her age on a blanket, asking Julius to guess which was his daughter. Apparently Julius was unable to decide which was his and which was the stranger.

Julius' time in the forest service of the Russian military was the source of many stories that fascinated his grandchildren at family gatherings in Canada many years later. No family reunion was complete without a "Geschichte" from grandfather. Did he carry a rifle to protect himself from wild animals, game poachers, and wood thieves? Did he ever have to defend himself with his weapon? What kind of animals lived in the forest? Bear? Wolves? Deer? Mountain lions? Did he have the use of a horse to better protect the forest? Usually grandfather's stories carried a message, and at the end his grandchildren felt fortunate that they had such a kind, wonderful grandfather.

After serving in the forest service, Julius was transferred to work in a factory north of Moscow, where he remained until the war's denouement.

Sometime after the war, Julius, Katharina and their three children returned to their farm in the village of Lavarow in the Caucasus.

Julius and Katharina celebrated the birth of their second son, Julius Jr., on March 23, 1921.
The period after war was very chaotic. Many people suffered at the hand of bandit gangs, and rogue military squads.

Katharina (Tienne) Derksen's brother and wife, Whilhelm Martens and Anna Ott Martens, were murdered, along with their children, except for their two daughters wearing checked dresses in the picture below.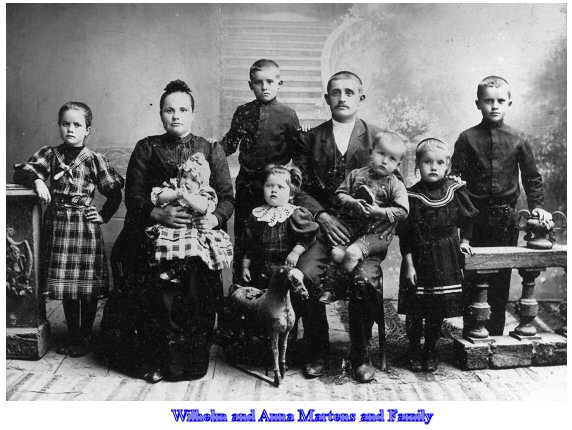 Since four of Julius' brothers had already emigrated to Canada, the political uncertainty in Russia motivated Julius and Katharina to leave. After disposing of their Lavarow property, they traveled to Moscow to obtain exit permits.

They left Russia traveling on the train from Moscow, crossed the border into Latvia through the Red Gate, and sailed to England from Rigal after they were processed by Canadian Immigration Officials.


Derksen Children in a Sunday School Class in England, 1925
Julius and Sara middle 2nd and 3rd rows, Katie 2nd from right 3rd row, Jacob 3rd from left 4th row
Mary Schmidt, Annie Schmidt, and Gertrude Schmidt are the three girls in the 3rd row to
Sara Derksen's right (viewer's left)
Johann Peter Schmidt is sitting in the front row, right side, with three white buttons on his shirt
(For information on the Schmidt children contact Patricia Schmidt at: thegargirl@hotmail.com)
Julius was 40, Katharina 37, Jacob 13, Sarah 12, Katharine 9, and Julius 3. They proceeded to Canada under the auspices of the Mennonite Board, Rosethorn, Saskatchewan with the intention of farming in Canada, traveling with Russian Passports (43298 and 43288) issued in Pjatizarsk, Russia. They listed Julius' brother, Martin Dirksen, of Rekeman, Tauriou as next of kin in Russia.


The Derksen (Dirksen) family became landed immigrants in Quebec City, Quebec, Canada on November 25, 1925, having sailed on the Empress of France (passage paid by themselves) from Southampton, England on October 31, 1925.

Immigration records indicate Julius Dirksen had $500 dollars when he landed in Quebec.

After 3 days on the train, they arrived in Winkler, Manitoba. Julius' brothers, Peter, Gerhard, and Johann, greeted the Derksen family when they arrived.

They were taken by car to Gnadentahl, Manitoba by Mrs. Johann Derksen's nephew, Frank Friessen. The picture above was taken when they arrived at Johann Derksen's farm in Gnadentahl.

In the spring of 1926, the Derksen's moved to Blumenhof, Saskatchewan, where they lived with Katharina's uncle, Franz W. Martens. That summer, Katharina's father, Jacob Martens, and Katharina's sister and husband, Sarah and Abraham Koop, arrived from Russia with the Koop children.


Just south of Blumenhof next to the CPR train tracks, the Derksen's purchased 300 acres of land, with a house and barn already built, seen in the picture right. The property had a well with a wind-mill driven pump. When there was no wind, the pump was operated by hand.

The Derksen's lived on this property for ten years, growing grain crops along with with dairy and beef cattle, and a vegetable garden for home use.

All the children worked on the farm and attended school for awhile. Sara taught Sunday School; Jacob attended Herbert Bible School during the year 1932-33.

The whole family attended the MB church each Sunday in Blumenort some miles south of Blumenhof, where Julius was the choir director. In winter, they traveled by way of sled and a pair of horses, while in summer, by horse and buggy.

Julius Derksen's Blumenort MB Church Choir, circa 1930
Katie and Sara are 2nd and 3rd from the left in the 2nd row
Julius Derksen is at the left in the top row
Farming on the Canadian prairies presented many challenges. The Derksen's had to adjust to planting, tending and harvesting crops different from the crops they grew in Russia. Fortunately, the use of draft horses, raising animals, and growing garden crops were similar to their previous experiences in Russia.

Julius Derksen Reaping Wheat with a Team of Four Draft Horses
The Derksen Children Gathered the Sheaves of Wheat into Stacks
The Stacks of Wheat Sheaves Were Collected by a Wagon Drawn by a Team of Horses
The Sheaves of Wheat Were Threshed to Obtain the Grains of Wheat
The climate, however, was quite different, and required the Derksen's to adapt their farming methods accordingly. Dust storms, grasshoppers, Russian thistle, and hail storms exacerbated farming conditions. Furthermore, the price of wheat plummeted below the price of seed wheat for the next years crop when the stock market crashed in late 1929.



Katie and Sara Derksen Digging Up Potatoes in their Kitchen Garden
The Derksen's Homestead House in Background
Somehow, the farmers of the Canadian Prairies coped. The Mennonite communities shared their food produce to help those less fortunate. The Mennonite farmers learned from the experience of farmers who improvised by planting crops other than wheat, such as oats, alfalfa, and rye. Moreover, they developed better techniques to plow and disc the fields, and increased the lands productivity by rotating crops, and leaving fields fallow for a year.
Life on the Canadian Prairies was not just work. The harvest schedule allowed for time to gather with relatives and friends for fellowship and socializing. In the above picture, the children of Blumenhof are gathered at the farm of Jacob and Elizabeth Koop on Easter Sunday for fun and games. Julius Jr. appears on the right in the back row.



In 1935 Katharina and Julius celebrated their twenty-fifth wedding anniversary on their farm in Blumenhof.

Although the 1930's were unfavourable times, and farming on the prairies was fraught with difficulties, the Derksen family was grateful to God that they had survived everything they had experienced, first in Russia and then in Canada.








In 1936, better times beckoned from Yarrow, British Columbia, where Julius' brothers Johann, Henry, Gerhard, and Peter Derksen were already living.

The Derksen's auctioned their farm implements and unnecessary belongings, sold their 300 acre farm, stored their furniture, cattle, and dog into a baggage and a cattle car, and boarded a CPR train bound for Swift Current and British Columbia.


The Derksen's purchased a small farm along the Vedder River on Ford Road, three miles east of the town of Yarrow. The family raised chickens, milked dairy cows, and grew potatoes, corn, and berries on their Vedder River farm. The family income was supplemented with work in the hop yards and tobacco fields on Sumas Prairie.
Moving to B.C. allowed Julius and Katharina to get back in touch with siblings who had also moved to the Fraser Valley. Julius' brother, Gerhard, was one of Yarrow's early Mennonite pioneers. Since Julius never bought a car, on Sundays the Julius Derksen's would travel by horse and wagon to the Gerhard Derksen's on Yarrow Central Road. From there, they would attend the morning church services at the MB Church, visit with their relatives in the afternoon, attend the evening worship service, and then return home to their Vedder River farm in the late evening.

Cousins Sally, Annchen, and Katie Derksen
Leona Siemens is the girl in front
Gerhard Derksen residence, Central Road, Yarrow


Tienne's eldest daughter, Sara, married George Siemens on March 28, 1937 in the Yarrow, MB Church. After farming in Saskatchewan for a few years, George and Sally bought the farm east of Browne Road adjacent to the Vedder River, and west of the Derksen farm on Ford Road.

Jake died on December 30, 1938, and was buried in the Yarrow Cemetery at the end of Alder Road (Hare Road).




On March 16, 1939 Katharine (Katie) and George Wiens married in the Yarrow MB Church, and purchased a nearby farm on Browne Road on the north-east corner of its junction with Vedder Mountain Road.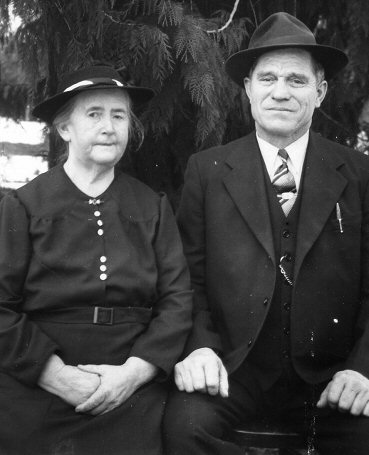 Katharina and Julius Derksen at Their Ford Road River Farm
After serving in the Canadian Armed Forces during WWII, Julius Jr. married Elise Boyle on March 2, 1945. They settled in Arnold, southwest of Yarrow and near the USA border, and across the road from the Arnold MB Church.




In 1944, Tienne and Julius bought a three and one half acre property on Central Road just west of the Yarrow MB Church. They built a house and a chicken barn, planted raspberries, strawberries, grapes, and a few fruit trees. Tienne had a flower garden next to the church yard, and a large vegetable garden next to the grape arbour.

Since Julius preferred horses to tractors, he would hire Mr. Penner and his farm horse to disc the berries, or to plow and cultivate a patch of ground.

This was a wonderful place for Tienne and Julius in their "retirement years." They could walk a few yards across the church yard to conveniently attend any services they desired, and they were centrally located in Yarrow for access to store shoping.

At Christmas and Easter, Tienne and Julius welcomed their children and grandchildren home for dinners and stories by Julius Sr. about their family's experiences in Russia and on the Canadian Prairies.


In later years, these gatherings were held at the homes of George and Sally, Katie, and Julius and Elise.
Through letters and cards, Julius tried to keep in touch with his relatives who were still living in Russia. His brother, Martin Dirkson, died in exile in Siberia, U.S.S.R. on February 4, 1947.

His sister, Maria Strauss, died in Oklahoma, U.S.A. on July 8, 1953.
When Katie Wiens and her family moved to Yarrow in 1953, the Wiens children loved having their grandparents nearby. Raymond and Elmer frequently took their books to do homework at their grandparents' kitchen table, while Tienne and Julius sat in their rocking chairs, reading and crocheting. At 8:00 pm sharp, grandfather turned on the radio to listen to the CBC news, while grandmother made a pot of tea. After drinking a glass of lemon tea while discussing current events, Raymond and Elmer would return home with their homework completed.
In January, 1961 in his memoirs, Julius Derksen wrote, "Hier bei die Kirche bei Yarrow wohnen wir, nach langer Pilgerfahrt durch dieses Leben. So Gott will wollen, wir hier bleiben, bis der Herr uns ruft. Ja, jetzt müssen wir sagen, das wir nun alt gewordern sind."
"Der Herr hat alles wohl gemacht."
---
Julius Derksen passed away on March 10, 1961.
---
Postcard that Julius Derksen sent his grandson, Elmer Wiens,
from the Royal Columbian Hospital, New Westminster


Was schafst du dann?
Gehst dochwohl fleissig zur Schule.
Seid nur unsere Mama immer gehorsam.
Mit bestem Gruss,
Dein Grandpa

What are you up to?
Probably diligently going to school.
But always obey our mother.
With best wishes,
Your Grandpa
by Elmer Wiens, compiled from Julius Derksen's autobiography, family albums and memories
GAMEO Biography

Wiens, Elmer. "Derksen, Julius J. (1884-1961)." Global Anabaptist Mennonite Encyclopedia Online. October 2009. Global Anabaptist Mennonite Encyclopedia Online. Retrieved 07 December 2009
---